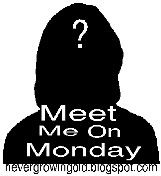 Java at Never Growing Old is our host, she asks 5 questions every Monday and we answer.
Questions:
1. What will your Christmas dinner consist of?
2. Do you watch commercials or flip through the channels?
3. How long will you leave your Christmas decorations up?
4. What movie makes you cry every time you watch it?
5. Do you have a Facebook?
Answers:
1)
My christmas dinner is going to consist of cornish hens, mashed potatoes and gravy, green bean casserole stuffing and a hot roll for our dinner with my parents, sister and brothers, and the kiddos.
On Christmas Eve we have turkey or ham sandwiches and lots of appetizers. That is when the whole family gets together.
2) I generally watch the commercials if I am in the middle of one of my shows, don't want to miss part of my show from flipping through the channels. Sometimes, I get up and pick up the house during commercials.
3) I will probably leave them up until the first of the year, but not sure yet. Depends on my mood honestly.
4) The Titanic, The Notebook...and the list can go on and on
5)Yeah, I have a facebook page.