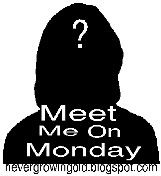 This is a blog hop. It is a nice, fun way to get to know people. Its simple! Link up using the code found on Never Growing Old's blog (the hostess) become a follower of the hostess and answer the five fun simple questions provided by the hostess. Feel free to look around my blog and become a follower. Remember if you leave me your blog address, I will follow you back !!!!
Questions:
1. Do you have any New Year's resolutions?
2. What food item are you craving right now?
3. When is your birthday?
4. What were you doing an hour ago?
5. Last thing you cooked?
---------------------------------------------------------------
Answers:
1) I don't make New Year's resolutions, they are only meant to be broke. I try to set goals. Right now my goal is to get started back on my Weight watchers plan and try to lose about twenty more pounds, to equal a total of 40 pounds.
2) Right now I am actually craving a caramel mocha frappe from McDonald's. Those things are so delicious.
3) My birthday and the best day ever is March 23rd, 1985. I know I know I am stil a young pup. HaHa

4) An hour ago, honestly, I was laying on my couch trying to get rid of my migraine and listening to peanut play toys while watching a Blue's Clues movie.
5) The last thing I cooked was ramen noodles for my daughter, Peanut would eat them all day if I would let her.