Meet Me On Monday is a blog hop that is simple and fun. It is a nice way to meet new people and find new blogs to follow. All you have to do it copy and paste the codes which can be found at
Never growing old's
blog. After getting the codes, have fun answering the unique questions that the hostess comes up with weekly.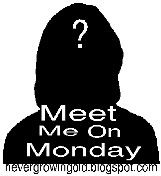 Questions:
1. Do you like your ice cream in a dish, waffle cone, pretzel cone, sugar cone or cake cone?
2. Do you read the newspaper daily?
3. Marinara or meat sauce?
5. What word/phrase do you find really annoying?
1. I prefer to eat my icecream out of a bowl. Not a big fan of cones.
And of course, cookies and cream is my favorite kind

2. I read/ skim the paper everyday. Alot of times though there is not much that interests me in our local newspaper.

3. It depends on what I am eating with the sauce. If its spaghetti or lasagna, I prefer meat sauce, but if its cheese sticks I want my marinara sauce please.

4. Surprising, I can't recall the last time I actually sat down and cried. It has been a long time. I am a very emotional person, and televison shows tend to make me cry at times.

5. It really drives me nuts when people refer to their child's mother or father as "baby mamma and baby daddy" Seriously, they have names and can't you respect them enough to call them by their name. I cannot stand when people call other's out of their name.