Blogging is a funny thing...we tell our most intimate thoughts for all to read and yet most of the time I find myself sitting and wondering, "who is this person!?" I know them...but yet I don't know them! I want to know who the person is behind all those words so I thought of a great way for all of us to "meet" each other!
Every Sunday Never Growing Old (the hostess) will post five get to know you questions that you can copy and paste into your own Monday post and we can all learn a little more about each and every one of us!!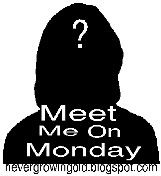 Questions:
1. What is your favorite kind of fudge?
2. Is there snow outside your window?
3. What is your favorite meal of the day?
4. Do you text on your cell phone?
5. Waffles or pancakes?
---------------------------------------------------------------
Answers:
1. I personally do not like fudge, it is too rich for me.
2. Oh yeah, there is probably about a foot of snow on the ground outside of my house...This has been accumulating over several days now!!
3. Supper is my favorite meal of the day. It is the meal that my family sits down and eats together, and we spend quality time at this meal
4. I am a big fan of texting on my cellphone, I probably text more than I actually talk on my phone

.
5. I prefer pancakes over waffles, but I really am not a fan of either. I prefer to have my cereal or my oatmeal for breakfast.